Still Hospitalized, Beyoncè Has Welcomed Twins
(AP Photo/Mark J. Terrill)
(CNN)Beyoncé and Jay Z have welcomed twins, a source close to the couple tells CNN.
There was no immediate word on the gender of the babies or their names.
The superstar singer and her mogul husband, who married in 2008, are also parents to a five-year-old daughter, Blue Ivy.
Queen Bey announced her pregnancy in February on Instagram.
"We would like to share our love and happiness. We have been blessed two times over. We are incredibly grateful that our family will be growing by two, and we thank you for your well wishes. The Carters, " she posted.
According to the March of Dimes, close to 60 percent of all twins and more than 90 percent of triplets are born prematurely (before 37 weeks). The average twin pregnancy lasts 35 weeks. Early births can lead to longer hospital stays in order for doctors to monitor the infants lungs and other organs, give babies time to gain weight and treat them for any existing conditions related to being premature.
Beyoncé's father, Mathew Knowles, tweeted, "They're here! #beyonce #twins #jayz #happybirthday" with a photo of balloons that said, "Happy Birthday to the twins! Love, Granddad."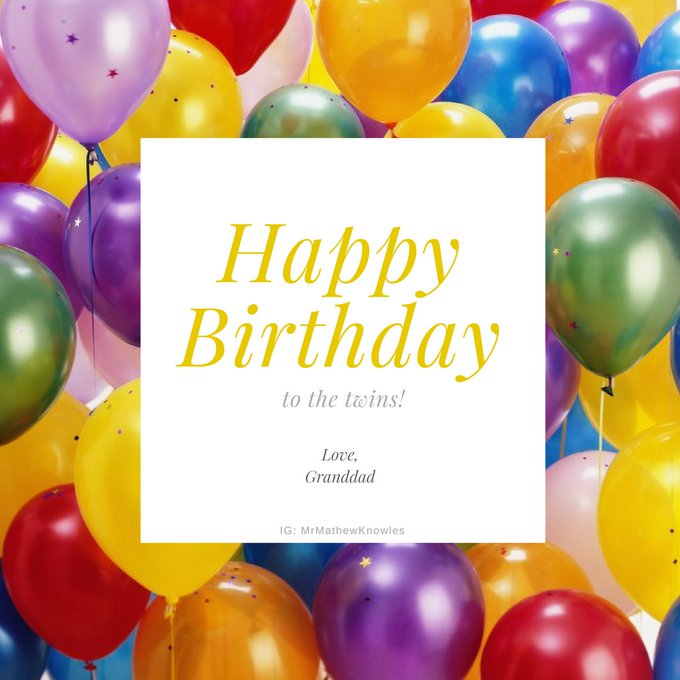 Mathew Knowles ✔@MathewKnowles

They're here!#beyonce #twins #jayz #happybirthday

9:11 AM - 18 Jun 2017
He was predictably dragged by Twitter for announcing their arrival before Beyonce did.

Sherry Mackey is a native of Memphis, TN. She attended the University of Memphis where she majored in communications. Sherry began her radio career in 1998 at AM 1380 WOOM where she was lovingly known as the praise & worship hostess. Sherry's career quickly took off as she became the Musical Director and ultimately the Program Director of the station. She hosted her own daily talk show called "The Road to Reconciliation". Sherry later joined the iHeart Media family as a Radio Personality on AM 990 "The Light" and now ultimately on 95.7 Hallelujah FM. She is the Morning Show Producer and Radio Personality and can be heard along side Dre Monie on The Early Morning Praise Party Monday thru Friday starting at 6am in Memphis, TN on 95.7 Hallelujah FM; in Jackson, MS on 95.5 Hallelujah FM; in Montgomery, AL on 104.3 Hallelujah FM; and in Birmingham, AL on 105.1 Hallelujah FM. Sherry also hosts her own show "The Sherry Mackey Show" Monday – Friday 1pm to 6pm and Sundays 6am to 10am on 105.1 Hallelujah FM in Birmingham, AL and in Memphis, TN Monday - Friday 12 noon to 2pm and Saturday's 3pm to 6pm on 95.7 Hallelujah FM. Sherry also hosts "Sunday Night Spotlight" highlighting local artists Sundays 8pm to 9pm.Sherry has not only worked in radio but in television as well. She has hosted a number of television programs and talk shows. She is a Motivational Speaker, Minister, and Professional Voice Talent lending her distinct voice to commercials for various brands all over the nation. She has also been employed as a corporate Radio Personality. She has been called on to host major concerts, theatrical productions and other events in various parts of the nation.She has a love of theater and acting as has played the lead and supporting roles in a number of major productions in the Memphis and Mid-South area.More than anything Sherry is a proud mom and Christian that loves the Lord and His people. Everyone that knows her calls her a friend. She loves to remind everyone: "You Are Fearfully & Wonderfully Made in the Image of Christ".