OPRAH CONTEMPLATED SUICIDE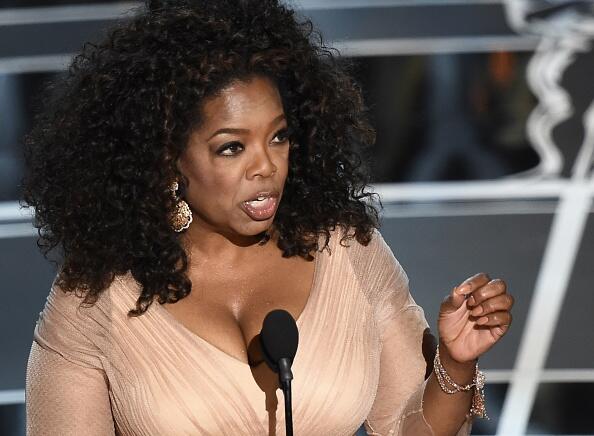 Oprah Winfrey recently opened up about her rough childhood, saying that being molested by relatives, and being raped and impregnated at 14 by her uncle, led her to consider suicide.
"I hit rock-bottom," Winfrey said on The Hollywood Reporter's Awards Chatter podcast. "I became pregnant and hid the pregnancy. I'd intended to kill myself actually. I thought there's no way other than killing myself. I was just planning on how to do it. If I'd had the Internet, I might not be alive because now you can just Google how to do it."
Winfrey says she had a miscarriage, which her father called a "second chance" for her. Winfrey says she absorbed those words as a mantra. "I was, in many ways, saved by that, and I made a decision that I was going to turn it around," she adds.
Winfrey also revisited her strong stand against the N-word amid the controversy surrounding Bill Maher, who apologized for saying it on his HBO show "Real Time."
"I think the word should be eliminated from the lexicon," says Winfrey. "I think it should be eliminated for everybody…. Nobody should be allowed to say it."

Sherry Mackey is a native of Memphis, TN. She attended the University of Memphis where she majored in communications. Sherry began her radio career in 1998 at AM 1380 WOOM where she was lovingly known as the praise & worship hostess. Sherry's career quickly took off as she became the Musical Director and ultimately the Program Director of the station. She hosted her own daily talk show called "The Road to Reconciliation". Sherry later joined the iHeart Media family as a Radio Personality on AM 990 "The Light" and now ultimately on 95.7 Hallelujah FM. She is the Morning Show Producer and Radio Personality and can be heard along side Dre Monie on The Early Morning Praise Party Monday thru Friday starting at 6am in Memphis, TN on 95.7 Hallelujah FM; in Jackson, MS on 95.5 Hallelujah FM; in Montgomery, AL on 104.3 Hallelujah FM; and in Birmingham, AL on 105.1 Hallelujah FM. Sherry also hosts her own show "The Sherry Mackey Show" Monday – Friday 1pm to 6pm and Sundays 6am to 10am on 105.1 Hallelujah FM in Birmingham, AL and in Memphis, TN Monday - Friday 12 noon to 2pm and Saturday's 3pm to 6pm on 95.7 Hallelujah FM. Sherry also hosts "Sunday Night Spotlight" highlighting local artists Sundays 8pm to 9pm.Sherry has not only worked in radio but in television as well. She has hosted a number of television programs and talk shows. She is a Motivational Speaker, Minister, and Professional Voice Talent lending her distinct voice to commercials for various brands all over the nation. She has also been employed as a corporate Radio Personality. She has been called on to host major concerts, theatrical productions and other events in various parts of the nation.She has a love of theater and acting as has played the lead and supporting roles in a number of major productions in the Memphis and Mid-South area.More than anything Sherry is a proud mom and Christian that loves the Lord and His people. Everyone that knows her calls her a friend. She loves to remind everyone: "You Are Fearfully & Wonderfully Made in the Image of Christ".