New Book That Warns About Texting & Driving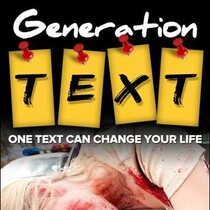 Posted August 19th, 2014 @ 8:55am
Generation Text: One Text Can Change Your Life,
Is the story that Can and Will save millions of lives around the world
TBR -- Generation Text tells the story about one man who learns the hard way that handling business anytime or anywhere is not acceptable. One night while texting and driving, he ends up in a deadly car collision that leaves four people dead---including his wife. Riddled with overwhelming grief and guilt, this man learns to face his workaholic addiction to technology. He then turns his selfish, careless act into a campaign to help change people's attitudes regarding texting and driving. As a result, he hopes to teach the world about the dangers of texting and driving.
We may not be able to save a million lives, but if we can save at least the life of one person, we have done our job.

For more information, go to http://www.generationtext.net and where ever books are sold.