Natalie Grant Hosting New Series 'It Takes A Church':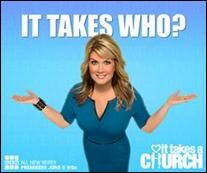 Posted June 5th, 2014 @ 7:03am
'So Much More Than a Dating Show,' Says Singer
Natalie Grant is enjoying another entertainment milestone in hosting "It Takes A Church," a new dating television show that premieres this Thursday, June 5.
"It Takes A Church" will follow Christian pastors across the U.S. who take on the role of matchmaker between single parishioners from their congregations who are looking for love. The new television series will give single Christians a chance to find true love inside the pews of their own church, and Grammy-nominated Grant will guide both the pastors and parishioners all along the way.

Grant shared "My husband and I often talk about what we are going to teach our kids, and my husband didn't even ever go on a date until he was 23 years old," the Christian singer said of Bernie Herms, her husband of almost 15 years. "We met and became best friends, a lot of people would call it dating but it was never really romantic until a year in, and then we decided to get married."
Although Grant was initially opposed to the "dating show" and even said no at first, the "Alive" singer agreed to host "It Takes A Church" after learning more about it.
"It really plays on the local church, it shows community and family - every episode shows the fact that the local church is doing something in the community through community outreach programs," Grant explained. "So it is a matchmaking show, but at the same time, it plays on whole idea every church has the matchmakers – the church ladies who will bake you a cake and tell you how to find a husband. Only, 'It Takes A Church' includes those singles that want to find someone, but they just don't know where to look."