Kenya Moore is Finally A REAL HouseWIFE of Atlanta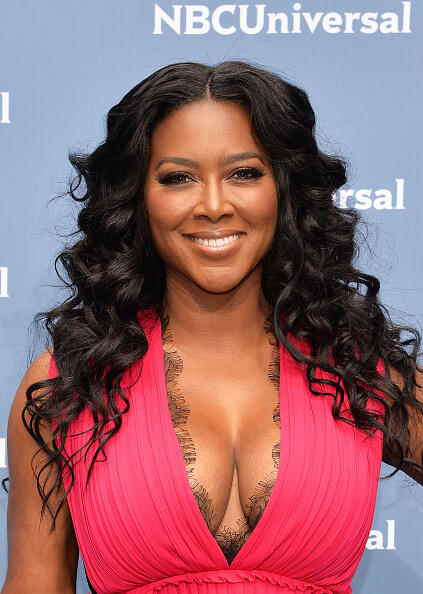 Real House Wives of Atlanta star Kenya Moore for the first time at 46 is now officially a housewife. Kenya is known for having "fake relationships" which made everyone question if in fact that this was real....Today she confirmed that she is indeed married. However, if you're wondering who the "lucky" guy is, you're still gonna be kept in the dark by the RHOA star. She is keeping the identity of her husband a secret for now, but he's a "businessman." They reportedly met a year ago and began dating a few months later. "I'm just ecstatic," she told People.
"This man is the love of my life and I'm so happy to begin our lives together as husband and wife."If you've watched RHOA over the past few seasons, you've seen Moore catching it from her co-stars for allegedly having "fake" romantic relationships on the Bravo show just to create storylines. But this time, there is nothing fake about Kenya's nuptials.
Photo of kenya Moore getting married in St.Lucia (via Tamaratattles.com)
According to People, her wedding was an "intimate beach getaway," and she was surrounded by family and friends. No word on which co-stars scored an invite, but most likely Kim Zolciak wasn't on the list.
Last year, Moore publicly and dramatically split with her ex-boyfriend, Matt Jordan. The drama played out on the most recent season of RHOA.
"It's painful to watch myself at my age tolerating such foolishness from anyone. I am ashamed," she wrote in her Bravo blog in March. "I focused so hard on breaking old habits of not running away when things get tough. Yet, this relationship was the exact scenario.
I should have run away as fast as humanly possible. If a man is capable of damaging your property, calling you out of your name, threatening you, tells you that you will die unhappy and alone — but in the same breath begs you to stay with him — RUN. I pray that other women take away that reprehensible behavior from a man is never acceptable. There is no excuse for abuse."
Moore continued, "I am thankful to have moved on from what seems like a lifetime ago. My circle is completely different now. I do not now or will ever have any communication with him. I do not wish harm on anyone and hope that he can move on with his life and leave me completely alone. I don't. I did. I'm done."
At this point we can only conclude that her new hubby is no Matt Jordan. Sherry Mackey is a native of Memphis, TN. She attended the University of Memphis where she majored in communications. Sherry began her radio career in 1998 at AM 1380 WOOM where she was lovingly known as the praise & worship hostess. Sherry's career quickly took off as she became the Musical Director and ultimately the Program Director of the station. She hosted her own daily talk show called "The Road to Reconciliation". Sherry later joined the iHeart Media family as a Radio Personality on AM 990 "The Light" and now ultimately on 95.7 Hallelujah FM. She is the Morning Show Producer and Radio Personality and can be heard along side Dre Monie on The Early Morning Praise Party Monday thru Friday starting at 6am in Memphis, TN on 95.7 Hallelujah FM; in Jackson, MS on 95.5 Hallelujah FM; in Montgomery, AL on 104.3 Hallelujah FM; and in Birmingham, AL on 105.1 Hallelujah FM. Sherry also hosts her own show "The Sherry Mackey Show" Monday – Friday 1pm to 6pm and Sundays 6am to 10am on 105.1 Hallelujah FM in Birmingham, AL and in Memphis, TN Monday - Friday 12 noon to 2pm and Saturday's 3pm to 6pm on 95.7 Hallelujah FM. Sherry also hosts "Sunday Night Spotlight" highlighting local artists Sundays 8pm to 9pm.Sherry has not only worked in radio but in television as well. She has hosted a number of television programs and talk shows. She is a Motivational Speaker, Minister, and Professional Voice Talent lending her distinct voice to commercials for various brands all over the nation. She has also been employed as a corporate Radio Personality. She has been called on to host major concerts, theatrical productions and other events in various parts of the nation.She has a love of theater and acting as has played the lead and supporting roles in a number of major productions in the Memphis and Mid-South area.More than anything Sherry is a proud mom and Christian that loves the Lord and His people. Everyone that knows her calls her a friend. She loves to remind everyone: "You Are Fearfully & Wonderfully Made in the Image of Christ".