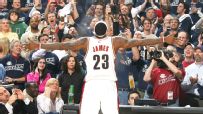 So, after nearly 2 weeks of waiting, Lebron shocks me...he is going back home..resigning with Clevand!!! I thought he would leave Miami...they were awful in the championship series. That team was done. But I never thought he would go back to the city that burned his jerseys, hats, shoes, everything. Even the owner of the Cavs posted some very "not nice" comments about Lebron 4 years ago when Lebron existed Clevand for South Beach.
Now if Lebron can put that aside, and go back, I know we can put asisde any little disagreements we have with friends, co-workers, and especially spouses. Right?!!!!
Enjoy ya wknd!!!
First of all...I AM SO BLESSED TO EVEN BE BACK ON RADIO!!! I say "back" because I worked radio here in Memphis before...when V101 was "Magic 101". I then worked several years with the Def Jam Music Group. A lot of "worldly" music, huh? That is why I say "BLESSED" to be back in radio. The joy & excitement you hear in my voice is because of how amazing GOD is to me. Join me weekday's 4pm - 10pm.